What is Reggio Emilia approach to learning?
The Reggio Emilia early years learning believes that children have a hundred different ways to express themselves through activities like drama, play, painting, music etc. At its core, it seeks to help children develop their natural personality by expressing themselves through their preferred symbolic language.
The underlying principle of Reggio Emilia is that children learn through sensory experiences involving touching, movement, listening, and observing. It is also important to respect the unique way each child chooses to interact with others and their environment, including the materials provided to them.
Founded in the 1970s by Loris Malaguzzi, an Italian psychologist and early years educator, the Reggio Emilia education was developed from his experience working with children with disabilities and learning difficulties, as well as experimental learning workshops with young school-aged children.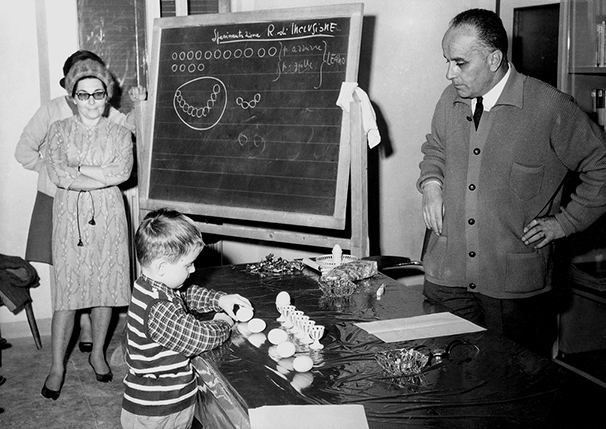 Related reading: Montessori At Home
Is Reggio Emilia the same as Montessori?
Although both are child-centred, constructivist models of learning (self-directed experimental play) and originating from Italy, there's a slight difference in the application and focus of Reggio Emilia and Montessori.
| | | |
| --- | --- | --- |
| | Reggio Emilia | Montessori |
| Origin | Reggio Emilia, Italy | Rome, Italy |
| Founded | 1970s by Loris Malaguzzi | 1900s by Maria Montessori |
| Learning Years | 0 to 8 years | 2.5 to 6 years |
| Principle | Letting children express themselves naturally through "one hundred languages" | Providing suitable materials and learning environment for children to develop naturally |
| Focus | Relationships | Independence |
Age of learning years
In his years of work, Loris Malaguzzi refined the Reggio Emilia teaching method while working with infants, toddlers, preschoolers as well as school children, so his learning principles are applicable to a wider age range.
Although Montessori can also be applied to older children up to teenage years, it is more widely used in early learning from around 2.5 to 6 years.
Learning environment
Another difference between Reggio Emilia and Montessori is the play setup.
Montessori is more focused on an age-appropriate environment with low profile furniture and open-ended toys to encourage independence and self-directed play. The Carry-Play portable activity table, for instance, is created for Montessori learning with child-friendly height adjustments and compatible with open-ended activities like Duplo and craft time.
See also: Best Toys For Toddlers Who Have Everything
The Montessori environment also has a preference for natural materials like timber and neutral colours, whereas a Reggio Emilia play space is more flexible and has no particular colour or material tendencies.
Instead, Reggio Emilia believes that children will naturally develop relationships with their environment, regardless of how it is set up. It is the educator or parent's role to observe and facilitate their play based on how they are interacting with materials and objects within that environment.
Essentially, Montessori is carried out on the foundation of the right kind of environment with appropriate toys or equipment, while Reggio Emilia is more focused on how you approach play and learning within any given space.
What are the benefits of Reggio Emilia approach?
The Reggio Emilia approach is much easier for home-based learning than Montessori as it is more concerned with nurturing relationships rather than having the right equipment and tools.
Because Reggio Emilia is more of a learning process rather than a method, it is easier for non-professionals and parents to implement at home. This makes it applicable in literally any home environment without having to purchase expensive furniture or toys.
Respect, fostering responsibility and building a sense of community are key principles of the Reggio Emilia method, so you will find yourself drawing closer to your child with a deeper understanding of his or her preferred language of expression.
As with all child-centred learning styles, the Reggio Emilia approach develops a child's self-confidence, independence, problem-solving abilities and resilience as they take control of their own learning.
Reggio Emilia activities for preschoolers
1) Movement-Based: Dance, Yoga
One of the easiest activities you can do at home is to put on your child's favourite music and encourage dancing with a bit of storytelling. Maybe get them to tell a story about the music, or use moves to convey the lyrics.
If you need more inspiration or ideas, there are some amazing kids yoga Youtube channels with fun follow-along videos that encourage imagination and movement.
Cosmic Kids Yoga is one that we personally use for our three boys, but we've recently also discovered Yo Re Mi which is more minimalistic (less special effects and fancy backdrops). It also has a 100% ad-free app available on Google Play and the Apple app store, so you can play videos on-the-go.
2) Pretend Play: Drama, Dress-Ups, Storytelling
If you have old clothes, they make fantastic costumes for kids with a big imagination. Ever seen a cheeky child being creative with a bra? Or how about an oversized shoe?
Depending on how their imagination unfolds, you can add to their play by throwing in some household items. Are they a jungle explorer? Give them some empty toilet rolls to make binoculars. Are they a superhero? A fly swatter is a safe choice of weapon.
By observing their play and adding to it with open-ended items, you are already putting the Reggio Emilia approach into practice by following their cues.
Sometimes kids may need prompts to get into that playful, imaginative mood, in which case their favourite book can be a good starting point. You can suggest they act out an alternative ending, or pretend to be one of the characters.
TIP: Kids are often more excited and invigorated when they're presented with an audience. To be involved with their play, you can pretend you're watching them at a theatre, or you're on a movie set and they're being filmed.
3) Music + Craft Activities: Homemade Instruments
Use items you find around the home that can create sounds, then put on a song and let your little ones decide how they want to play.
If you have preschoolers with good fine motor skills, you can even get them involved with DIY musical instruments using tin cans, paper plates and more.
Get 10% Off + Free Shipping
---
You may also be interested in: How To Organise Your Playroom On A Budget