Organizing the endless piles of toy trucks, Lego, and other assortments of toys can seem a daunting task. Those playrooms you see on Instagram look stylish and expensive.
Fortunately, to achieve a beautifully organized playroom is very possible with our five simple hacks to minimize your spendings on toy storage solutions.
See also: 8 Quick Tips To Turn Your Dining Room Into A Playroom
---
1. Use larger playsets as storage for smaller toys
Have a look around your playroom and identify the larger toys or playsets. Then think about how they can be used to create storage space, rather than take up space.
If your child owns a pretend play kitchen set, a play tent, or a cubby house, take advantage of these spaces by using them as storage for smaller related toys.
Another example is if you have a large garbage truck toy, you can use it to store loose parts and bits and bobs so that it is literally like a real garbage truck that transports random things.
By grouping toys of the same category together, it also facilitates play by providing children with what they need for a particular "theme", so they're not tempted to turn the playroom upside down looking for things.
---
2. Think outside the box with existing furniture
Closets, bookshelves, tables… these are large items that would take up precious space in any playroom. Make the most of them and use them creatively!
Remove a few shelves, throw in a few books, and the closet double-ups as a reading nook.
Lie a bookshelf like the IKEA Kallax Shelf on its side, put a rug and a few cushions on it and it becomes a stylish bench.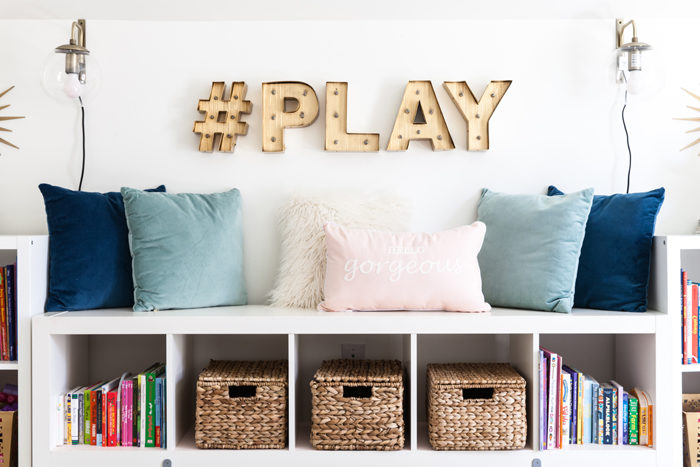 ---
3. Refurbish or repurpose items
Got a broken table lying around somewhere? Or a bookcase with missing panels? Before kicking these to the curbside, see if you can give it a second life with a fresh coat of paint, new fixtures, and a new purpose.
The clever people over at Style Your Senses converted a $7 old TV cabinet into this gorgeous play kitchen.
From this…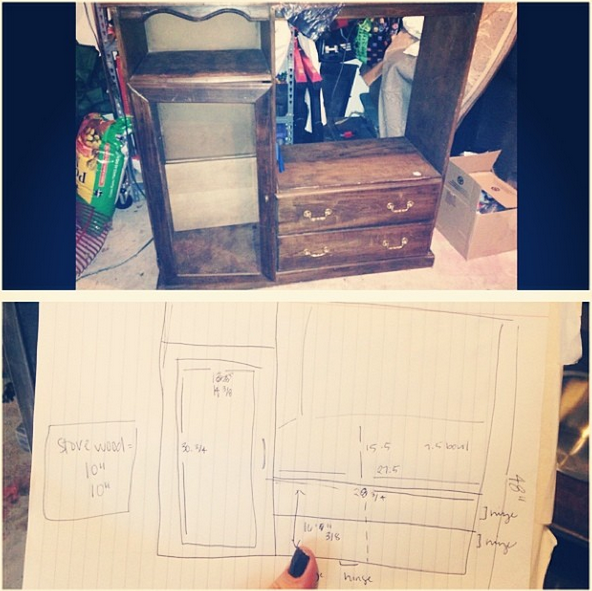 …to THIS!
If that doesn't inspire you to roll up your sleeves and save some money, watch the video to see how The DIY Mommy converted a bookcase into a cute mini costume rack for her daughter.
If you don't have old furniture at home, you can find good bargains at thrift shops, garages sales, or on Facebook marketplace!
Shoe boxes, cardboard boxes, and other such packaging are also great for storing loose parts and random smaller toys. Decoupage the boxes to give them a creative new look, this video tutorial shows it can be easily done with dinner napkins.
---
4. Make use of walls with vertical storage
Rather than let your kiddos use the walls as a canvas for their artistic creations, get a pegboard from IKEA and created your own vertical storage solution anywhere in the house. You can even fix it behind the door if your wall isn't empty.
Shower caddies, hanging shoe organizers, towel hooks are common household items you can easily hang on doors and walls to create vertical storage spaces for smaller, loose toys.
---
5. Sort & declutter with toy rotation
Toy rotation is done by dividing all the toys into groups of 8 to 10 activities (or items) and bringing out only one group each week for the kids to play with.
Every week you'll rotate the toys, so it's like Christmas every week because they'll be playing with toys they haven't seen or touched in a while.
Not only is this a great way of keeping little ones continuously interested in playing, but it also makes the playroom more minimalistic and less cluttered, as there's less of a mess to clean up each time.
TIP: While grouping the toys, make sure there is enough variety in every group consisting of open-ended toys like building blocks and tiles, as well as puzzles and books.
While you're decluttering the toys, take the opportunity to clear out any broken toys or spare parts that don't belong anywhere. Also, take out toys that your child hardly ever plays with and consider donating them or selling them.
You can get quite a nice lump sum if you sell old toys as a bundle on Facebook marketplace or similar sites.
You may also be interested in: Reggio Emilia Approach vs Montessori At Home